Vacuum Bleeding Clutch Hydraulic Release Systems
---
Requirements:
The slave cylinder must be equipped with a bleed screw that allows you to connect to the vacuum pump tubing.
Hand operated vacuum pump and fluid catch bottle.

Consult the vacuum pump manufacturer's instructions for setting up and operating the vacuum pump.
Connect the vacuum tubing to the bleed screw. Apply approx. 15 in-hg vacuum to the system. Open the bleed screw. Monitor and maintain fluid in the reservoir as this technique can quickly remove fluid from the system. Maintain vacuum on the system while bleeding the system.
Continue this process until several ounces of fluid has been vacuumed through the system.
NOTE: A small constant stream of air bubbles may appear and seem like it is not working or is leaking somewhere. This small stream of bubbles is usually air being pulled past the bleed screw threads, not from inside the hydraulic system. The efficiency of the vacuum can be improved by wrapping several turns of Teflon tape on the bleed screw threads. It is not required or recommended to apply this tape to the actual bleed screw seat area of the bleed screw.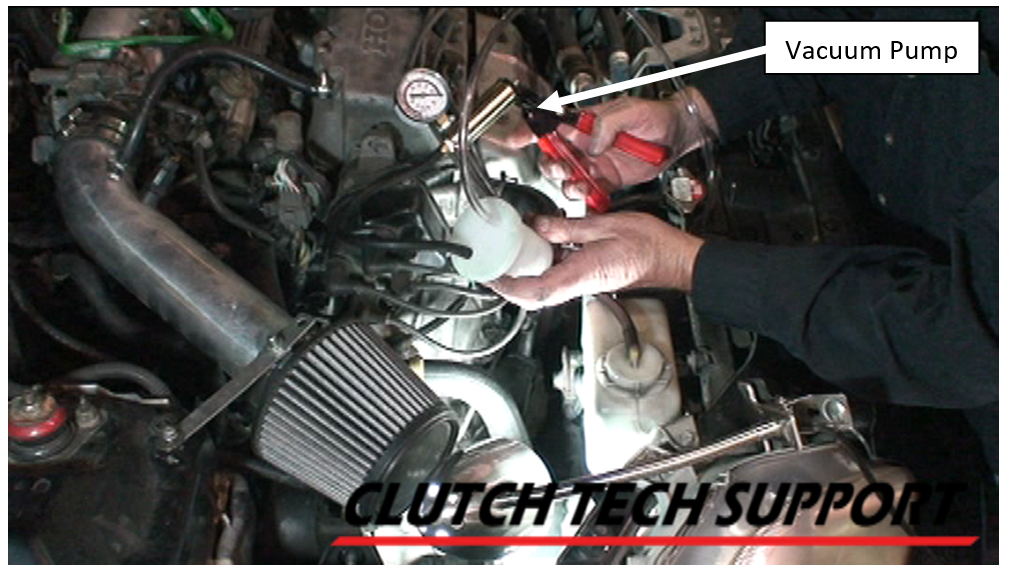 ---
PLEASE REFER TO FACTORY SERVICE MANUALS FOR DETAILED APPLICATION SPECIFIC PROCEDURES.
This bulletin is to assist in the safe and effective servicing of this application. Transmissions, transaxles and transfer cases are heavy and their safe removal and replacement requires the use of proper tools, equipment and procedures to prevent injury and damage. Always read and follow instruction bulletins and factory service manuals for detailed clutch servicing procedures.
Bulletins and any additional information:
IB270 06/25/2015