Hydraulic Connection Type Guide
This Clip Style connector replaces the internal tab lock connector without any modifications or special tools.

Connector and Coupling must be the

same colors

.


Gold or brass colors connect to each other.

Black only connects to black.

Any attempt to connect gold or brass to black is an indicator of vehicle modifications- not catalog error
---
Install
Inspect the hydraulic line prior to re-assembly for any damage or wear that would require replacement. Closely inspect the 90 degree shoulder that the clip or tab lock locks onto. Any damage to this shoulder will prevent the line from locking. Look for fluid leaks, chaffing, and damage to the connections that may result in a failure of the system to release the clutch.

Install the new split sleeve and connector O-ring.

After installing the transmission, remove the plastic shipping plug and firmly push the line it to the connection. The connection will make a clicking sound as it locks. Check the connection by pulling slightly on the line.

To disconnect, remove the clip, then the line can be removed.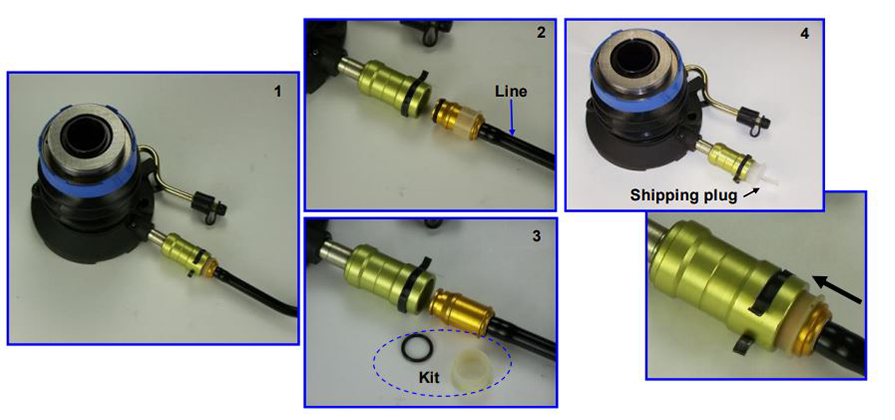 ---
PLEASE REFER TO FACTORY SERVICE MANUALS FOR DETAILED APPLICATION SPECIFIC PROCEDURES.
This bulletin is to assist in the safe and effective servicing of this application. Transmissions, transaxles and transfer cases are heavy and their safe removal and replacement requires the use of proper tools, equipment and procedures to prevent injury and damage. Always read and follow instruction bulletins and factory service manuals for detailed clutch servicing procedures.
---
For more information, visit www.clutchtechsupport.com
IB237
06/25/2015