Quick Connect Type Clutch Installation Cautions and Tips
---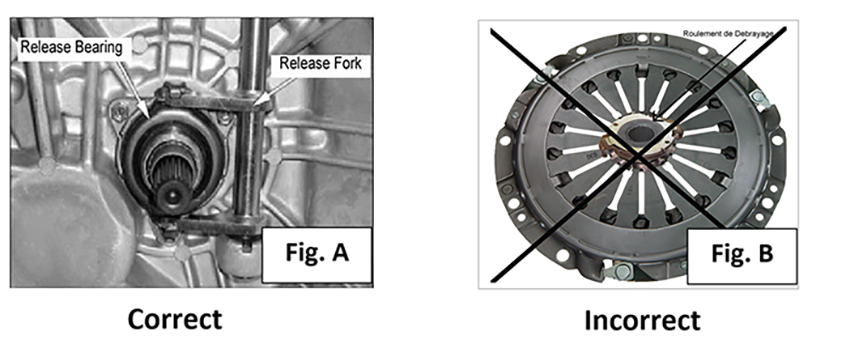 This vehicle uses a pull type clutch, DO NOT install the release bearing on the clutch cover; see Figure B. The release bearing is only to be installed on the transmission as in Figure A. The bearing will be connected to the clutch cover after the transmission is installed.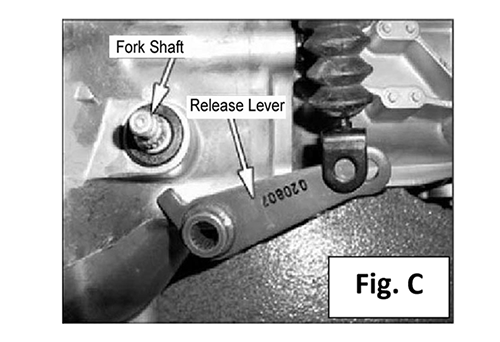 To remove transmission: Disconnect the slave cylinder pushrod from the release lever. Remove the release lever from the release fork shaft. The transmisson is no longer connected to the clutch cover and can be removed.
---
Clutch Installation Tips:
During the installation of the clutch cover, position it on the flywheel so that the open end of the quick connect retaining ring is pointed down; see Figure D.

Priot to installing the release bearing on the transmission, center the rotating sleeve by snapping it into the center of the bearing assembly. This bearing is a self aligning bearing and the rotating sleeve can be shifted into the center of the bearing to better align the bearing and aid in installation. Figure E shows the rotating sleeve offset and Figure F shows the rotating sleeve centered.
After installing the transmission:
Connect the release lever onto the fork shaft; it aligns in one position only. Do not attach it to the slave cylinder at this time.
Push the release lever towards the slave cylinder. The release bearing will lock into the quick connect retaining ring. The release lever is now locked in, please confirm that it is locked by pushing on the release lever in the same direction as if releasing the clutch. The release will only move about 0.2" at the slave cylinder pushrod hole.
---
PLEASE REFER TO FACTORY SERVICE MANUALS FOR DETAILED APPLICATION SPECIFIC PROCEDURES.
This bulletin is to assist in the safe and effective servicing of this application. Transmissions, transaxles and transfer cases are heavy and their safe removal and replacement requires the use of proper tools, equipment and procedures to prevent injury and damage. Always read and follow instruction bulletins and factory service manuals for detailed clutch servicing procedures.
For additional information, visit www.clutchtechsupport.com
IB216 06/25/2015